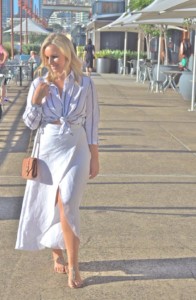 Hi, my name is Kristin Smith and I am the founder of LE STYLE CO.
Le Style Co evolved out of a love for fashion and styling but above all for a desire to help individuals look and feel their best.
I am a mother to two beautiful boys and grew up in Sydney on the Northern Beaches.
I spent a large portion of my life living in many other corners of the world including London, Japan and the South of France.
I was immersed in other cultures that were rich in fashion and individual style and have had my own fashion blog for years.
Previously, I had experience working in retail management which then lead me to become a qualified Personal Stylist.
I am now based back on Sydney's Northern Beaches where I love helping clients discover their best self through style.
I'm truly dedicated to my clients' individual needs and understand that each and every one of us may have different internal and external struggles.
As a Personal Stylist, i'm committed to helping my clients achieve their best, most confident self and that's rewarding!
www.lestyleco.com